Work Packages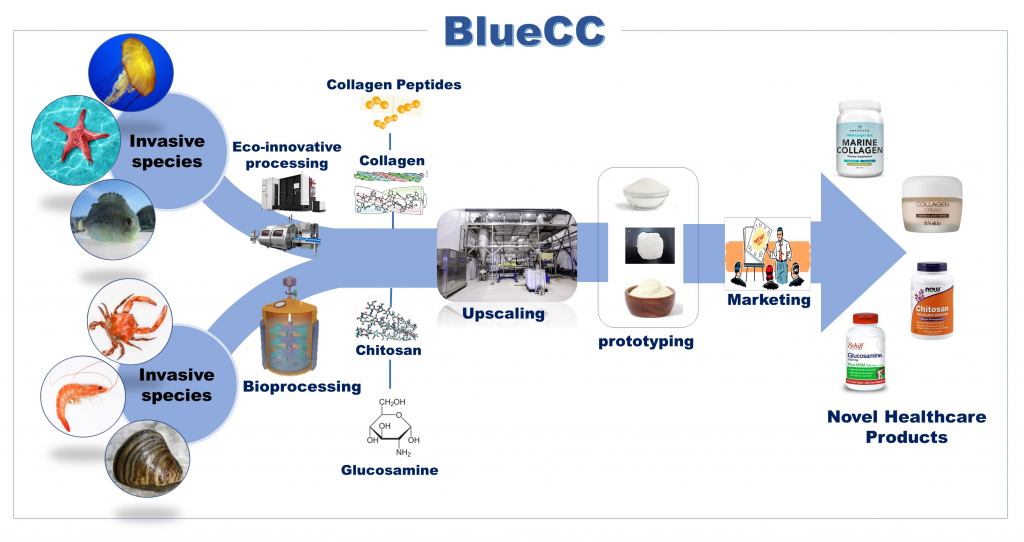 WP1, "Market driven concept development", will leverage the outputs from the BlueShell project and investigate the potential demand for high quality chitin and collagen across consumer and industry sectors. It will research requirements for standardisation and compliance. It will sign up test sites and develop a user brief for each of these.
WP2, "Sustainable Chitin demonstrator", and WP3, "Sustainable Collagen demonstrator", will develop methods for the isolation of chitin and collagen, respectively, from both invasive species, fishery by-catches and aquaculture cleaner fish. Low-volume demonstrators will be designed and constructed for each application. These will be tested initially at the different locations and subsequently scaled up after small-scale success. LCA will be carried out to ensure environmental performance.
WP4, "Health effects of novel marine ingredients", will take the outputs from WP2 / WP3 and assess them in relation to human health such as impact on inflammation, human pathogenic microbes and parasites, and biofilm formation during fouling processes. The results may be implemented in products such as food and feed, food packaging, and nutraceuticals.
WP5, "Characterisation of marine bioactives", will perform chemical analysis on the chitin and collagen produced in order to characterise their capabilities.
WP6, "Commercialisation feasibility in an RRI framework," will evaluate the commercial feasibility of the demonstrators and prepare commercialisation strategy for the most relevant, including legal and regulatory aspects. It will develop an effective value chain; economic, environmental and social ROI; business cases for major stakeholder groups; access resources and finance to sustain post-project commercialisation; engage with potential partners / licensees and manage IP issues.
WP7, "Dissemination & Communication", will actively ensure that information about BlueCC and its results are communicated and disseminated throughout the project period to our stakeholders, including the food, cosmetics and ingredients industries, consumers, policy makers and the scientific community.
WP8, "Management", ensures BlueCC encourages rigour, teamwork and quality of outputs. It includes setting up an independent external project advisory board. Stage-gates will measure progress at critical milestones. WP8 will ensure communication and reporting is carried out to a high standard.